School Meals
Snacks at Breaktime
At Tyndale, we want to create and maintain a culture and ethos of healthy eating. We always encourage our children to eat a snack at breaktime during the mid-morning. There is of course free fruit and veg provided in KS1. However, if pupils decide to bring a snack in from home, pupils will only be allowed dried or fresh fruit and vegetables for their snack from Term 4. Any leftover bagels or toast is always available to pupils from the morning breakfast provision available to all pupils.
Any pupils with dietary/medical requirements which make having dried/fresh fruit or vegetables as a snack not possible will have a bespoke care plan discussed and agreed with the involvement of our SENCO. However, without this agreed care plan, pupils will not be able to eat any snacks brought into school that aren't fresh or dried fruit or vegetables. If other snacks are brought in, these will be kept aside and handed to the parent/carer at the end of the day.
---
Water
As we want to create and maintain a culture and ethos of living a healthy life, only water is permitted during the school day. If your child has bespoke dietary or medical needs, please discuss these with the SENCO who can agree on a care plan.
---
Packed Lunches
We encourage our pupils to eat a balanced diet as this will maximise the capacity of the brain's ability to absorb new information and will help the body to feel energetic and ready to learn. If you choose to send your child to school with a packed lunch, we would suggest including a sandwich/pasta, two pieces of fruit and a yoghurt. Water is always available for all pupils on the tables during lunchtime.
---
The School Menu
Hot, delicious and nutritious meals are cooked daily onsite by our fantastic Catering Team. Our menu can be found at the bottom of this page which is seasonal and repeats over a 3-week cycle.
Each pupil is provided with a main meal and a dessert. Your child will be able to select their main meal choice from the menu and also select from a choice of two desserts every lunchtime with water provided to them at each table.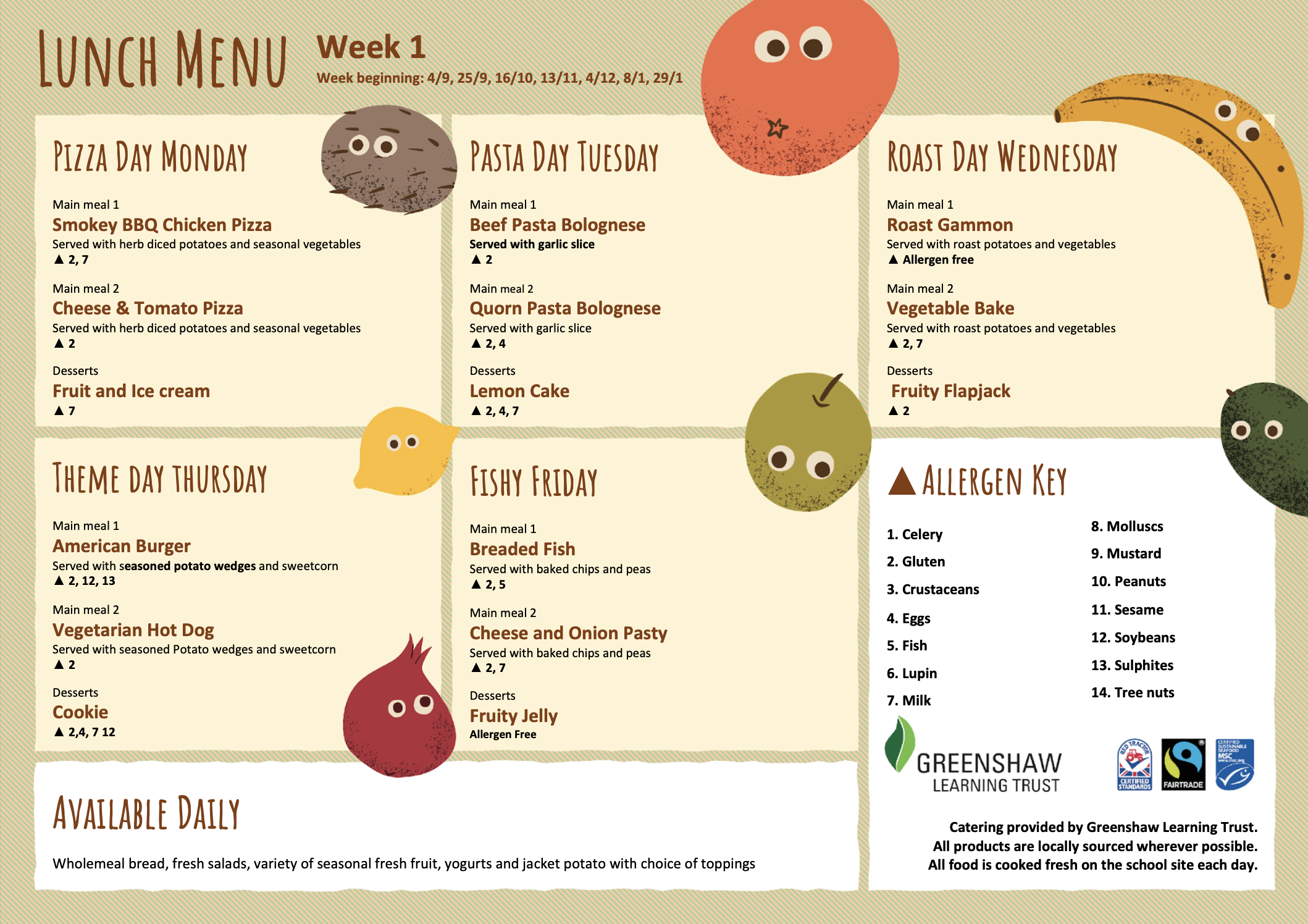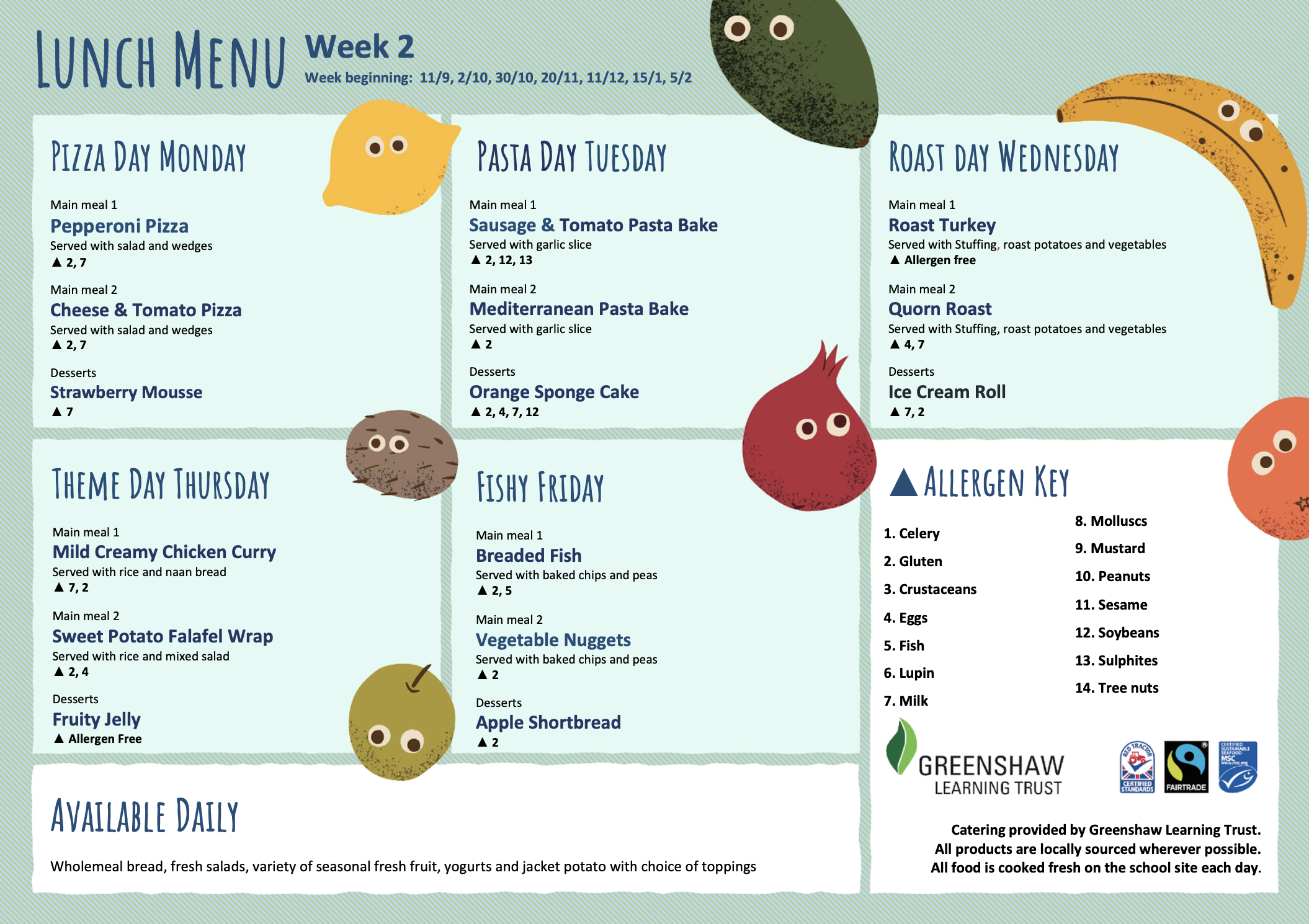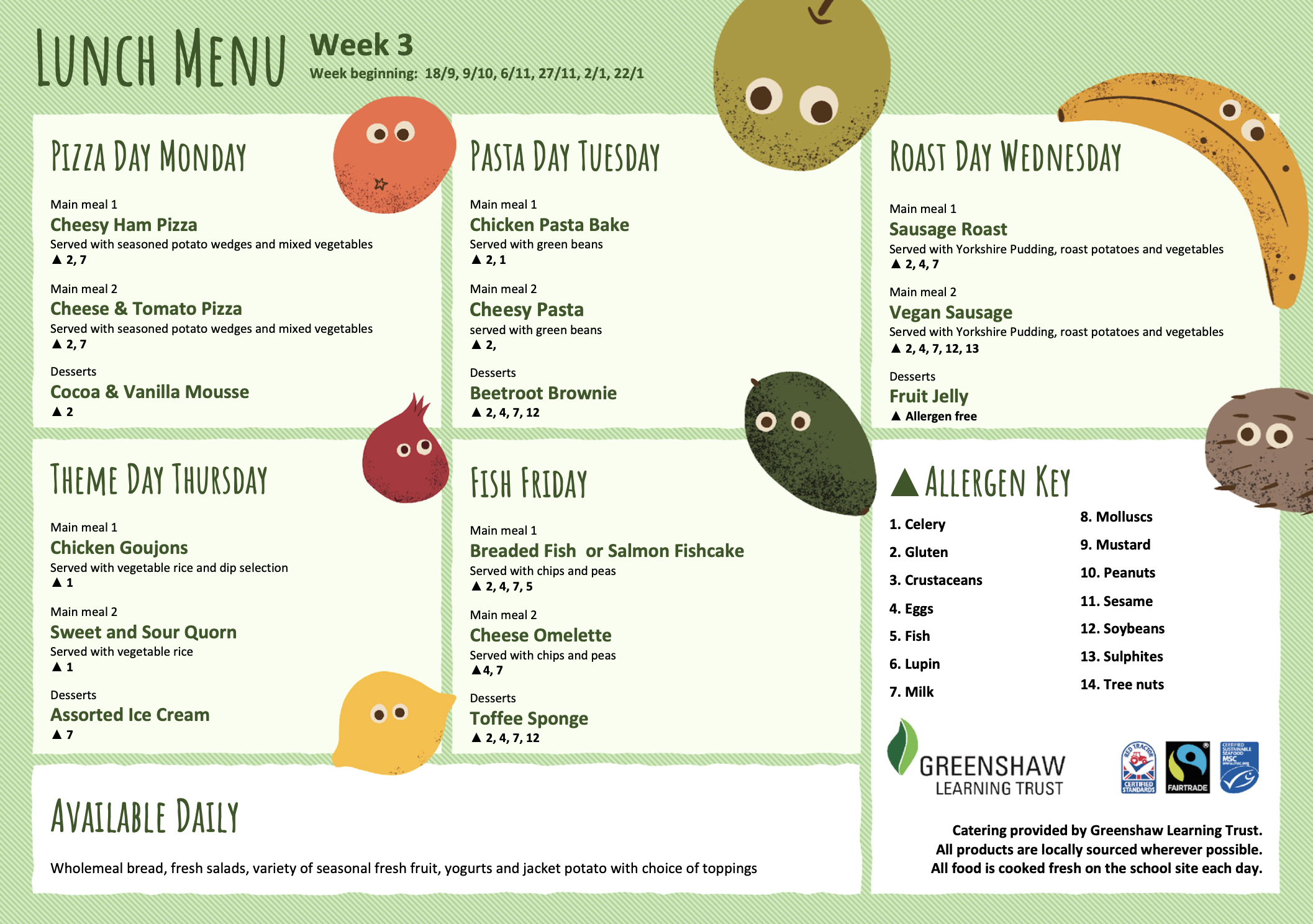 ---
Dietary Requirements
We can provide a range of alternative meals including, but not limited to, vegetarian, vegan and gluten free. If your child has any specific meal requirements or allergies please let us know by emailing admin@tyndaleprimary.co.uk so that we can inform our catering team. Please see below the GLT Allergen Procedure document for your reference.
---
Nut Free
We aim to be a Nut-Free school. The school aims to protect children who have allergies to nuts, yet also help them, as they grow up, to take responsibility as to what foods they can eat and to be aware of where they may be put at risk. We do not allow nuts or nut products in school lunch boxes.
Our "Nut-Free Policy" means that the following items should not be brought into school:
Packs of nuts
Peanut butter or Nutella sandwiches
Fruit and cereal bars that contain nuts
Chocolate bars or sweets that contain nuts
Sesame seed rolls (children allergic to nuts may also have a severe reaction to sesame)
Cakes made with nuts
Any home cooked meals for packed lunches that are made from nuts
What types of food are nuts?
Almonds
Cashew nuts
Hazelnut
Pistachio
Walnuts
Brazil nuts
Nut oils
Peanuts
---
Parents and carers must notify staff if their child has any known or suspected allergy to nuts and provide all medical and necessary information. This will be added to your child's care plan and if necessary, a meeting organised with the school nurse.
Homemade snacks or party food contributions must have a label detailing all ingredients present. If you are unsure about a selection, please speak to a staff member before bringing the food item into school.
The school requests that parents and carers observe the nut-free policy and therefore do not include nuts in packed lunches.

All children are regularly reminded about the good hygiene practice of washing hands before and after eating which helps to reduce the risk of secondary contamination. Likewise, children are reminded and carefully supervised to minimise the act of food sharing with their friends.
---
How to pay for school meals:
It is easy to pay for your child's meal on Parent Pay. Please contact the school office for your log in details if you are not registered. If your child is starting in Reception, registration details will be sent to you separately. Once you have access please ensure that you add funds to your child's account for the meals for the week ahead.